Paintings of Mukta Venkatesh
K.L. Kamat profiles the the floral paintings of Mrs. Mukta Venkatesh

First Online: August 15, 1997
Page Last Updated: May 09, 2017
The Yadavagiri neighborhood of Mysore city, in Karnataka State (India) is an ideal place to grow a variety of ornamental flowers. It can also enthuse any creative writer, poet or a painter to bring out one's best. Mrs. Mukta Venkatesh, the octogenarian floral painter has bloomed in such an eco-friendly , stimulating environment. One has to visit her at her residence in order to believe her achievements.
© K. L. Kamat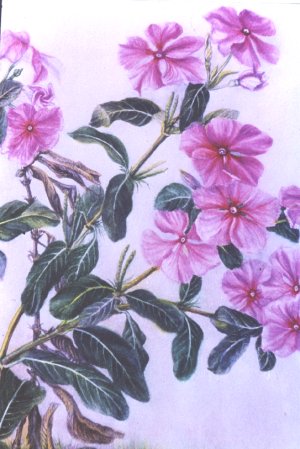 Childhood of Mukta
She was the fourth child, in Mr. A. Madhavaiah's family of five daughters and three sons, born in May 1902 in Tamil Nadu. Her father was an excise (Abakari) officer by profession and had was skilled in writing novels in English and Tamil. At a sweet age of seventeen she got married to an engineer, Mr. Venkatesh, son of Mr. Madhava Shashri, the principal of Mysore Maharaja's Sanskrit college. Then she came to Bangalore with her husband. Here, she joined the Bangalore Mahila Samaj and commenced teaching women. When she moved to Mysore in 1922 she dedicated all time and energy in reading and writing Kannada.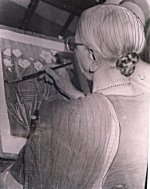 Mukta Venkatesh at Work
As a child she took liberty to draw whatever subject that fascinated her. In recognition and appreciation of her artistic talents her father had appointed Ms. Hope of the Madras School of Arts, as her drawing teacher. She visited England in 1931-32 with her husband and learnt landscaping from Xavier Willis, a well-known British painter. She also took the opportunity to paint the farmers of the area. She has a great admiration for Leonardo De Vinci and Vincent Van Gogh and visited London museum and the Louvre Museum in Paris to study their master works.
Embroidery First, Florals Next
Mukta's artistic urges were restless to find expressions in one or other formats. She commenced her artistic debut by opting embroidery, still subjects like fruits and flowers, followed by animals such as cats and squirrels. At times she opted for natural scenery. Then she adventured for human forms and depicted Lord Shiva and Nataraja in their dancing poses, still she was not pleased with her performance and hence looked around for inspiration. The bountiful nature attracted her most. Soon she undertook several field-trips to draw shrubs, vines and trees that grew around her residence. When she painted the same plants again and again she felt that the momentary flowers deserve her attention better than any thing else in this world. "When they are in bloom every body is attracted towards them. Nobody ever bothers to save the withering flowers". Mrs. Venkatesh took on herself to preserve the beauty of flowers for many years to come!
When a particular flower is about to bloom, she collects a bunch of them and commences sketching them on a drawing paper, followed by applying a contrasting color as background. When the sheet is perfectly dry she works on buds, flowers, leaves and twigs, one after the other, by applying water color by different brushes. It is very thrilling experience to observe as how her flowers come to life step by step. When the drawing is complete, one realizes the painting is a s charming as the original itself, if not more. Then she get it framed and hang in her drawing room.
She has a special skill by which she can enlarge small flowers and reduce the larger one so that all of them fit into the paper she selects. She may draw innumerable number of flowers but no two of them are identical! She takes extra care to include her drawing those insect that are associated with a particular flower. For this she captures live insects like, moth, butterfly, cicada in a glass container and includes them in her drawing. Then the insects are let back to the nature.
© K. L. Kamat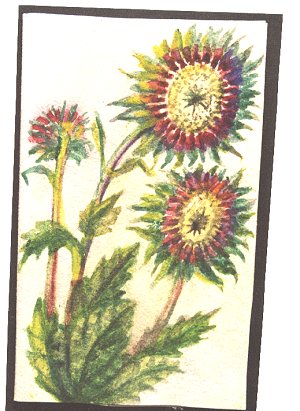 After Mr. Ventatesh's retirement from active government service they constructed a sprawling bungalow with an extensive courtyard where Mukta grew numerous flowers which she is desirous of painting. Hibiscus is her very favorite, and she has red, pink, yellow, white, buff colored ones in her painting collections. Marigold, gul-mohar, vinka, sunflower, and roses are other flowers she usually draws. She has an unique skill in repairing the damaged paintings. She repairs the water damages with another layer of colors. Physically damaged or torn ones are repaired by pasting a piece of paper on damaged part and then drawing a fresh flower in that area so that nothing odd is seen from a distance.
Mukta's was a well adjusted, extremely happily married life till Mr.Venkatesh passed away in 1984 at the ripe age of ninety. He had made all provisions for Mukta, but increasing inflation ate off all that and thus she had to face financial problems. She has two married daughters and three grandchildren who all wish Mukta should spend rest of her life with them. Daughter Girija is extremely talented like her mother and specialized in Japanese Sumer Art while her husband was posted in Tokyo as the Indian ambassador to Japan. She is a good singer also. As her mother prefers to live all alone in the house constructed according to Mukta's requirements, Girija has constructed as house in Mysore so that she could be near to her loving mother.
High Talent, Low Profile
Mukta always shun publicity and hence always kept a low profile. But her will-wishers took on and arranged an exhibition of Mukta's flowers titled "Flowers from Mysore Gardens" in Tokyo in 1982. The second one was held at All India Fine Arts and Craft Society at New Delhi. Both of these were extremely successful and there was great demand for the painting . At first Mukta was very reluctant to make a living on her art. But a friend Mrs. Garline Parpiya convinced her that nothing is wrong in selling her paintings for a price. Now, she has taken over the charge of marketing all of Mukta's paintings in different countries of the world. By doing this, she has done a great service, as this will result in preserving this extraordinary lady's art work in homes and museums all over the world.

See Also: