INTRODUCTION TO THE TIMELESS THEATER
To the reader of the new media
Throughout my photographic career of over forty years, I have tried to capture Indian motifs that transcend time. I have been strongly attracted to the Indian ways of life that are untouched by the wars, the technologies and the consumerism. I have seen people live in forests just like they lived thousands of years ago, as truly children of God, the mother nature. Due to the nature of my work, I came in contact with several historical researchers, young and old, who introduced me to the historical wealth that is India. Due to the destiny, I got to venture into the remotest corners of Rajasthan and West Bengal and suffer humiliation of petty politics, as well as to experience true fulfillment of life among the tribals of Madhya Pradesh. The Timeless Theater Website, is a sampler of my notes, photographs and artifacts during all these years of living. Much of its content did not see light previously because of the high cost of production of books involving photographs. The developments in new technology have enabled me to bring these to a wider audience.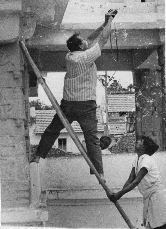 KalaRanga (kaa-la-runga), the title itself is derived from Hindu philosophies, means "theater of time". It also connotes that the world is a stage where a timeless entity (God) is performing. I have deliberately left out commonly known/asked topics about India such as religious customs, Taj Mahal and the tourist attractions, to focus on the theme The Timeless India. You will find pre-historic rock paintings to the social life of the contemporary Halakki community. You will find the glory of the jewels of the Mysore Maharaja to the exploitation of the tribals by government officials. You will find stories, photo essays, line sketches, historical cross references, art archives and experiences of a vagabond traveler.
Credits are certainly due to my wife Dr. Jyotsna Kamat, various departments of the Government of Karnataka for making several resources available over the years, the Bangalore University, the Government of India, and all the people who have lent me a helping hand (holding the ladder and the like.) The Kamat's Potpourri and the Timeless Theater CD-ROM projects have been the brain-child of my son Vikas Kamat who also has been editing the contents.
I welcome your feedback.



On India's 50th Birthday,
August 15, 1997

110 Shashikiran 18 Cr.
Malleswaram, Bangalore - 560055
India
---

What KalaRanga Is and Isn't
WHAT Timeless Theater IS
What Timeless Theater IS NOT

An honest attempt to document things Indian as author saw, experienced and learnt.
A multimedia cross reference of historical artifacts, social notes and observations made during author's 40 years of traveling in the Indian subcontinent.
An attempt to introduce the reader the diversity, the richness and the complexity of Indian society and culture, so young minds are drawn into its study.

This is NOT a travel guide, although you can find several travel tales.
This is NOT a comprehensive study on Indian society or culture. It merely documents things the author studied during his encounters